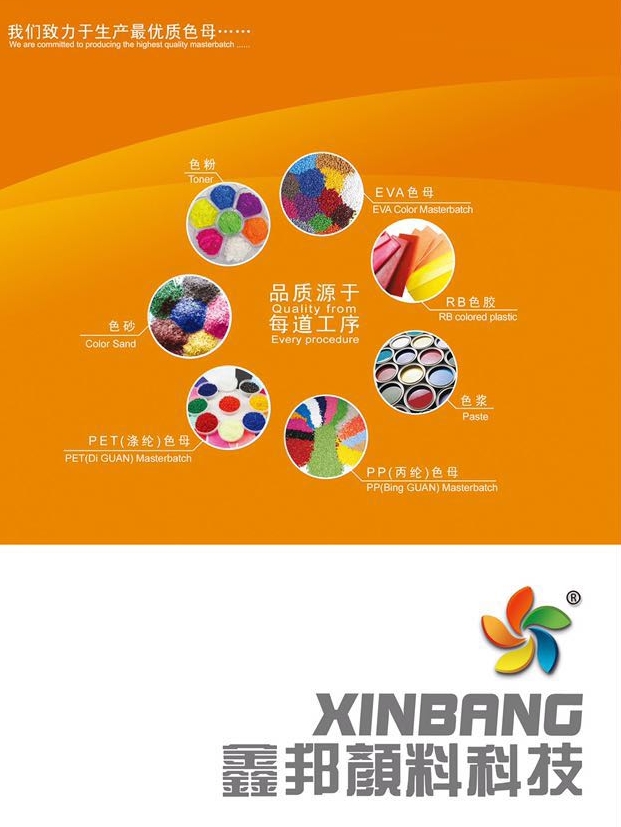 Fujian Xinbang New Material Technology Co., Ltd. is a research and development, production and sales in one, specializing in the sale of color masterbatches.
      The company has a complete range of operations, adequate inventory, and a good reputation in the industry. The company mainly sells black and white masterbatches, various color masterbatches, functional masterbatches, filling masterbatches and other products. The products are produced by advanced production equipment. They are non-toxic, environmentally friendly, heat-resistant, good migration resistance, high stability and low content of heavy metals. All of them have passed the EU SGS environmental protection certification, ROHS certification and ISO 9001:2008 international quality management system certification. It can be widely used in the coloring of PE, PP, PS, HIPS, AS, ABS, PVC, PC, EVA, RB rubber, color paste, color cake, color powder and other plastics products. It has bright color, uniform dispersion, strong coloring power, simple coloring process, no environmental pollution, energy saving, saving labor and dyeing costs. It is suitable for various plastics injection moulding, blowing film, calendering, blow moulding, sheet material, granulation, wire, cable and so on. Many plastic forming processes such as cable sheath, etc.
       The company is located in Yangda Li Kanglong East Road, Chen Du Town, Jinjiang City, Quanzhou City, Fujian Province, with convenient and fast traffic. With the concept of "quality achievement brand" and satisfactory performance, our products have been exported to all parts of the country and exported to Southeast Asia, Europe and the United States and other regions. Our sales are among the top in the industry.
       Xinbang takes selling products as its responsibility, and wholeheartedly welcomes people of insight at home and abroad to visit and negotiate business. 
       How far an enterprise can go depends on its peers, and how successful it is depends on who accompanies it.
       Xinbang and you, create a better future!